Becoming a Home Development Contractor
The Georgia Department of Human Services (DHS) is the agency responsible for the delivery of health, human/social and related regulatory services for the state of Georgia. The major service divisions within DHS are Aging Services, Child Support Services and Family and Children Services. In partnership with local communities, DHS assists individuals and families in achieving safe, healthy, independent and self-sufficient lives. Many DHS programs have seen record numbers of enrollment in this recent economic downturn. Please refer to DHS website at http://dhs.georgia.gov for more information about the Department, its responsibilities/functions and organizational structure, etc.
The Division of Family and Children Services (DFCS), Caregiver Recruitment and Retention Unit (CRRU) is charged with promoting, developing, and supporting quality Foster and Kinship and Adoptive Home Development services for Georgia's children and foster families. Over the years, the unit has impacted the number of children placed through; (a) Increased home placements of children who were in the custody of DFCS; and (b) Increased collaboration with non-profit and for-profit organizations to serve children and families with fostering services.
DFCS seeks to increase the state's capacity to provide pre-service training to prospective caregivers, and complete DFCS foster, adoptive, kinship and ICPC home studies through qualified Home Development contractors.
Qualified contractors should be able to either facilitate state approved pre-service training (group and one-on-one), assess prospective DFCS and ICPC families through the written Family Evaluation.
All HD contracts are zero ($0) based contracts with need or referral-based services. Billing may not exceed $24,999 in any contract year. This threshold does not apply to non-profit organizations.
The services would be contracted on one (1) year terms beginning July 1 through June 30. At the sole discretion of DFCS, the contract will be awarded on or before July 1. All interested and current providers must apply by March 15th.
All HD contracts will have a statewide service area; contractors are able to indicate the preferred service area. Each regional accounting office will be set up to process billing for each contractor. However, the region that sets up the contract remains accountable for the contract/contractor.
Areas of Need
The current areas of need include rural counties in Regions 1, 2, 3, 6, 9, 10, 11, and 12.
Home Development Contractor Areas of Need Regional Map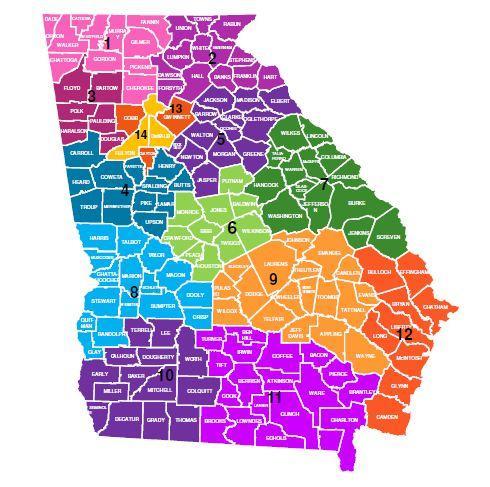 Qualified Contractors
Only qualified contractors may be offered a HD contract.
DFCS shall utilize only certified individuals to conduct and assess prospective caregivers. Assessors must have completed IMPACT Leader training (offered exclusively through the DFCS Education and Training Section) as well as SAFE Certification training.
Additionally, a qualified contractor must meet the following requirements:
To conduct pre-service training, prospective Home Development contractors:
Must be certified to conduct IMPACT.
Can understand and implement the philosophy and conceptualizations inherent in pre-service training.
To write initial family evaluations, prospective Home Development contractors must: 
Have a minimum of a bachelor's level of education in Social Work, Counseling or Psychology or a related field.
Be certified in the SAFE model.
Submit a writing sample to evaluate your ability, literary and grammar skills.
Demonstrate a functional understanding of the agency's mission.
Have the ability to provide thorough well-written family evaluations with supported recommendations.
Note:
Current DFCS Staff, Licensed Child Placing Agencies and Current Staff of Child Placing Agencies are not able to receive a contract.
Foster parent pre-service training co-leaders are not eligible to receive a FHD contract or write the Family Evaluation.
Procedures:
Each individual contractor must submit proof of meeting qualifications. Documents should be sent to

[email protected]

prior to any other steps being taken. Please address the subject of the email as: New Home Development Contractor- Last Name, First Name. At a minimum the following information must be submitted:

Resume (to verify experience)

Copy of Degree (to verify education)

Writing Sample (previous study, report, paper, etc.)

Once you have been deemed a qualified contractor, you will receive an email notifying you of the assigned Regional Contract Coordinator. The Regional Contract Coordinator will assist you with ensuring that your Home Development Contractor packet is complete. Once you've received your email, proceed to the Becoming a Home Development Contractor-Related files section to obtain the required documents.  

Before existing contractors can reapply for another contract year, the individual or agency must submit proof of at least five (5) hours of training. Verification of training hours should be submitted with your annual packet. 

30 days prior to the start of the contract, the State Office Caregiver Recruitment and Retention Unit will conduct an orientation with the contractors to review the contract requirements, review the assignments and billing procedures, review general expectations and ensure that contractors understand their responsibilities in following DFCS Child Welfare Policy and any local/regional procedures.

The local Caregiver Recruitment and Retention Lead should implement a quality assurance and feedback process to ensure that the contractor is meeting the quality requirements of the contract and that any needed corrective actions are implemented up to and including termination of the contract, if warranted.
Prospective Home Development Contractor Qualification period
Prospective Home Development Contractor applications are accepted between Oct. 1 and Dec. 1 each year.
Becoming a Home Development Provider - Related Files
Packet Submission
1. All Home Development packets must be submitted to the Regional Contract Coordinators by the submission deadline March 15. Late submissions will not be processed.
2. Each form/document must be in PDF or Word format and attached individually
3. Each document must follow the specified naming convention (Example: First name_Last Name.W9 or Agency Name.W9)
4. A sample of the naming conventions can be found here:
Naming Conventions

| | |
| --- | --- |
| Vendor File Document | File Naming Convention |
| 17 Pt. Questionnaire (Individuals Only) | .17PT |
| Criminal Records Check | .CRC |
| GA Dept of Revenue Form | .TAX |
| Security Immigration & Compliance | .SECIM |
| Certificate of Liability Insurance | .INS |
| Corporate Resolution (Non-Profit Only) | .CORPRES |
| W-9 | .W9 |
| Vendor | .VENDMGT |
| Contract Specific Documents | .SPECDOC |
Vendors with previous HD contracts:
If you have already submitted your resume and degree, you do not need to resubmit unless there has been a significant change in education or employment.

Writing samples are required with each submission

Criminal records checks are only required every five (5) years
Contract Reminders:
FHD Contracts are non-renewable and must be applied for annually by the submission date March 15.

Contracts are awarded by July 1. The contract period is July 1-June 30.

Contractors who did not receive a Home Development Contract should be notified by July 1. 

Contractors will receive an electronic contract for signature from the Division's ECAT (Electronic Contract Automation Tracking) system.  Contractors should have a valid email address that they monitor in preparation to receive the contract.  Once received please review your document and quickly electronically sign.
Becoming a Home Development Contractor - Related Files
If you require any additional information about becoming a Home Development Provider, please email [email protected]